Compact e-flute for improved strength over solid board
Slide on lid allows variable height which also improves strength
Provide a rigid double layer for extra protection of items
Ideal for business who ship a range of items in different sizes
All telescopic boxes and lids come in white
Click the Information Icon In the Info Column to view Product Images
Close
Buy: Telescopic Box & Lids
Close
Telescopic Box & Lids
Product Code
TELESCOPIC-BOX-&-LIDS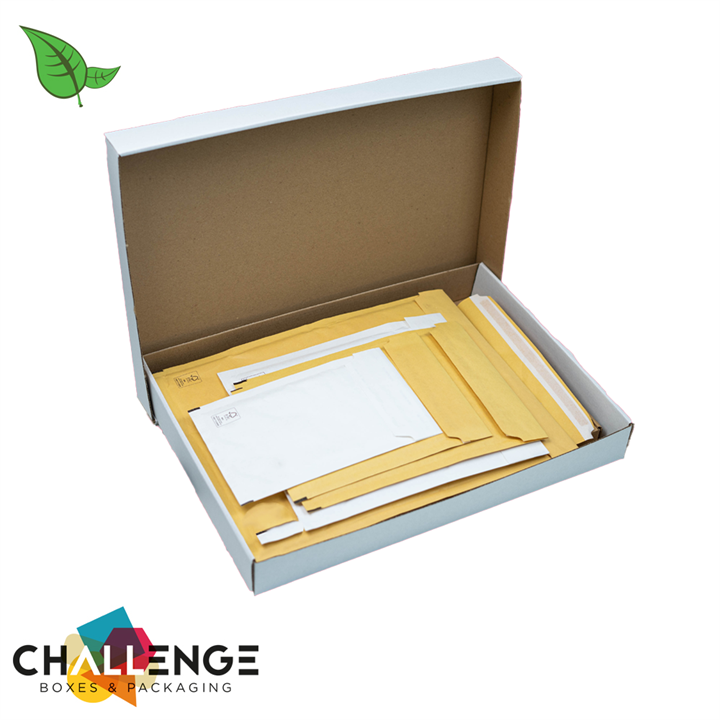 Telescopic boxes are flat cardboard boxes that can be adjusted to fit the size of your item. This is achieved through a separate lid which slides to accommodate the contents. The white telescopic box and detachable lid offer an easily adjustable packaging solution for a wide variety of needs. Dimensions range from 215x153x51 cm to 425x305x50 cm, with 50 boxes per pack. Select your box size and number of units below.
All telescopic boxes and lids come in white and are available in packs of 50.
Dimensions include:
• ASCBLCA5 - 215 x 153 x 51
• ASCBLCA1/3 - 216 x 102 x 50
• ASCBLCA4 - 302 x 216 x 50
• ASCBLCA3 - 425 x 305 x 50
Why choose Challenge Packaging :
Find your solution with over 200 standard-sized boxes

Enjoy next day delivery

Choose cardboard storage boxes with custom dimensions

A comprehensive range of board grades and flute type

We offer high-quality printing options to align with your brand
We have hundreds of cardboard box storage solutions so you can easily find what you need.
Technical Specification
No specifications available.
Reviews
There are currently no reviews, be the first to review.
There are no download types with downloads for this product.
No recently viewed products