Ideal for pamphlets, brochures, and lighter goods. Made from a tough, corrugated board

Book mailer wraps – ideal for heavier items like books and audio-visual goods

Wraparound design secures goods during transit

100% recyclable environmentally-friendly packaging
Click the Information Icon In the Info Column to view Product Images
Close
Buy: Twister Mailer Packs
Close
Twister Mailer Packs
Product Code
TWISTER-MAILER-PACKS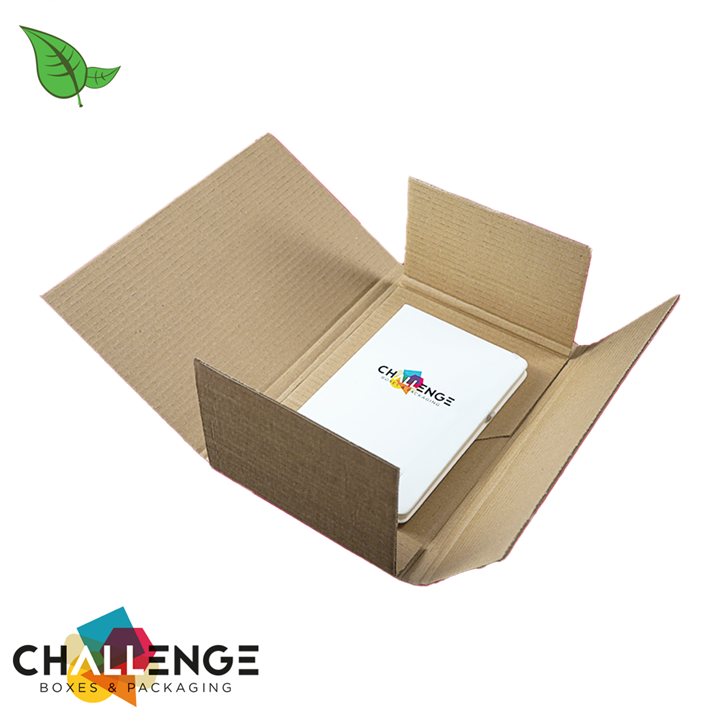 A book mailer is a simple wraparound box made from durable fluted corrugated cardboard. While ideal for packing books, this product's variable internal dimensions allow it to be wrapped around a multitude of products, making it the perfect solution for companies looking to package different sized goods. For companies shipping hardbacks, paperbacks, textbooks or even comics, it's essential to ensure products are protected during their journey. The best mailers for books give you peace of mind by keeping goods safe from start to finish, wrapping around products and reducing bumps and scrapes. Our book mailer wraps are manufactured with a robust and the Book mailer wraps have a self-seal strip that's quick to apply, keeps the product secure, and acts as a tamper evident seal. We deliver our products flat-packed for easy storage.
Challenge Packaging offer two different options for Book mailers. Shop Today -
Book Mailer Wraps - Ideal for heavier items likes books and audio-visual goods
Twister Mailer Wraps - Ideal for pamphlets, brochures, and lighter goods. Made from tough, corrugated board

Why choose Challenge Packaging:

Find your solution with over 200 standard-sized boxes

Enjoy next day delivery

Choose cardboard storage boxes with custom dimensions

A comprehensive range of board grades and flute type

We offer high-quality printing options to align with your brand
We have hundreds of cardboard box storage solutions so you can easily find what you need.
Technical Specification
No specifications available.
Reviews
There are currently no reviews, be the first to review.
There are no download types with downloads for this product.
No recently viewed products