Manufactured with single-wall corrugated cardboard

Designed to be used for safely transporting cans

Supplied flat-packed for easy storing

Enables a fast and effective packing process
Click the Information Icon In the Info Column to view Product Images
Close
Buy: Boxes For Cans
Close
Boxes For Cans
Product Code
BOXES-FOR-CANS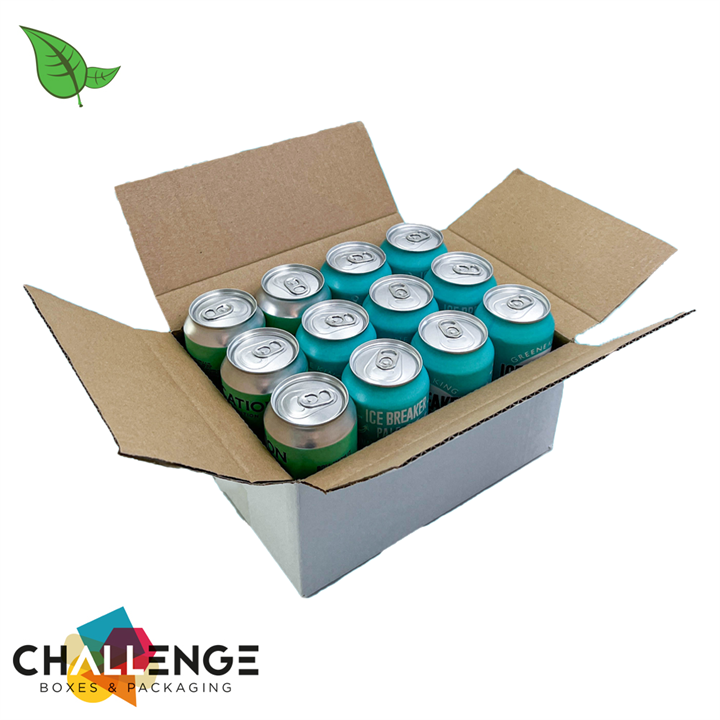 Introducing our eco-friendly packaging solution, crafted from single-wall corrugated cardboard. Specifically designed for secure transportation of standard 330ml and 440ml cans. Conveniently supplied as flat pack, our boxes for cans can be effortlessly stored and ready for quick assembly, enabling a swift and efficient packing process.
Protect your goods with our durable cardboard boxes. These boxes are designed for a snug fit, ensuring your products reach customers in pristine condition. With eco-friendly materials and easy assembly, our cardboard boxes are the ultimate packaging solution for your canned items.
Whether you're packaging, standard 330ml, or large 440ml cans, we offer a variety of sizes to accommodate your specific needs. Our range of sizes ensures a snug fit for your products, eliminating unnecessary movement within the box. We're committed to sustainability. Our cardboard boxes for cans are crafted from eco-friendly, recyclable materials, ensuring that you can package your products responsibly without compromising on quality or aesthetics.
Save time and effort with our user-friendly assembly process. Our boxes are designed for quick and hassle-free setup, allowing you to focus on your business operations without the headache of complicated packaging. Quality packaging doesn't have to come with a hefty price tag. We offer competitive pricing without compromising on quality, ensuring that you get the best value for your investment.
Elevate your brand and protect your products – choose our cardboard boxes for cans today!

Technical Specification
No specifications available.
Reviews
There are currently no reviews, be the first to review.
There are no download types with downloads for this product.
No recently viewed products