Standard removal sizes

Available in 40- or 48-inch depth

Hanging Rail sold separately

Large or small quantities available to purchase

Fast and effective way to store or move clothing with ease
CLICK HERE FOR YOUR WARDROBE BARS
Click the Information Icon In the Info Column to view Product Images
Close
Buy: Cardboard Wardrobe Boxes
Close
Cardboard Wardrobe Boxes
Product Code
WARDROBE-BOXES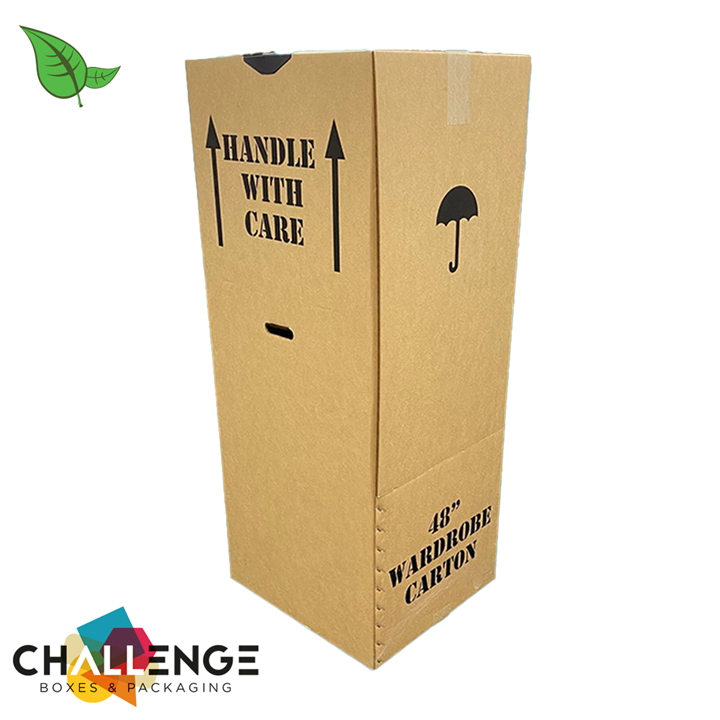 We understand that packing your wardrobe can sometimes be tedious. And that's why we're here to provide you with the ultimate packaging solutions. Discover our wardrobe storage boxes designed to make storing or moving your clothes much faster and more effective.
Our packing boxes are sold individually and are available with or without a hanging rail (sold separately). Whether you're looking for a simple solution of wardrobe boxes to move houses or businesses, our high-quality boxes protect your favourite items during transportation.
Alternatively, Challenge Packaging offers over 200 standard-size corrugated cardboard boxes for delivery.

Why choose Challenge Packaging:

Find your solution with over 200 standard-sized boxes

Enjoy next day delivery

Choose cardboard storage boxes with custom dimensions

A comprehensive range of board grades and flute type

We offer high-quality printing options to align with your brand
We have hundreds of cardboard box storage solutions so you can easily find what you need.
Technical Specification
No specifications available.
Reviews
There are currently no reviews, be the first to review.
There are no download types with downloads for this product.
No recently viewed products