Printed tapes are white with a bright red typeface

Made from low noise polypropylene tape, making it durable weather resistant

Best used in conjunction with tape dispenser

Ideal use for in any workshops, site or for affixing onto goods
ASPYLAW50FRA - FRAGILE
ASPYLAW50GLA - GLASS HANDLE WITH CARE
CLICK THE INFORMATION ICON IN THE INFO COLUMN TO VIEW PRODUCT IMAGES
Est. Dispatch Date 07 December 2023
Close
Buy: Printed Warning Tape
Close
Printed Warning Tape
Product Code
PRINTED-WARNING-TAPE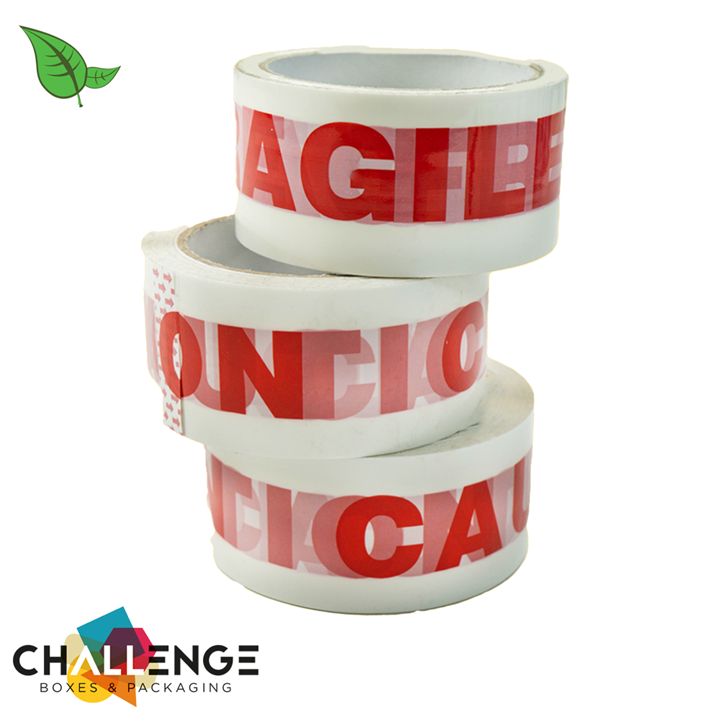 Looking to communicate a warning message clearly and obviously in any situation? We've got you covered. Challenge Packaging offers a variety of stock-standard printed warning tape solutions to order in bulk. Whether you're marking fragile items or need to quarantine an area in the workshop, these visible tapes are impossible to look past.
Each printed tape is white with a bright red typeface and made from low noise, polypropylene tape, making it durable and weather resistant. Best used in conjunction with a tape dispenser, which is also available for order online.
Why choose Challenge Packaging:

Find your solution with over 200 standard-sized boxes

Enjoy next day delivery

Choose cardboard storage boxes with custom dimensions

A comprehensive range of board grades and flute type

We offer high-quality printing options to align with your brand
We have hundreds of cardboard box storage solutions so you can easily find what you need.
Technical Specification
No specifications available.
Reviews
There are currently no reviews, be the first to review.
There are no download types with downloads for this product.
No recently viewed products