The UK's Most Popular Lockdown Gifts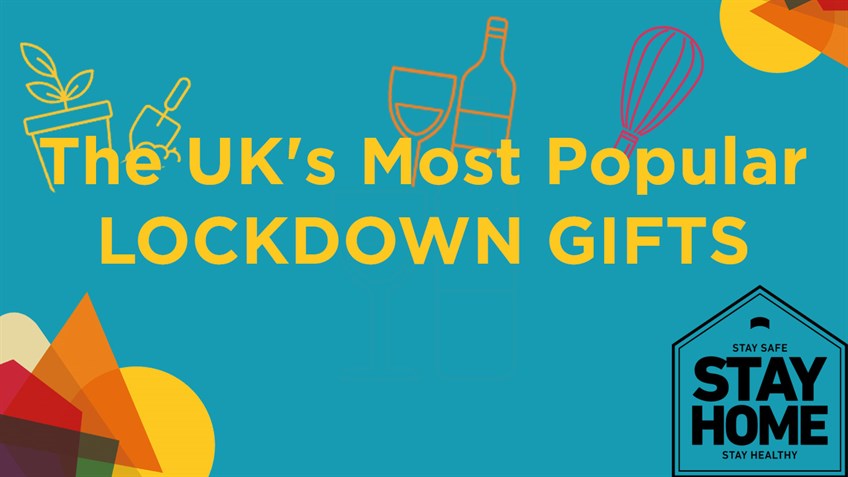 Published date: 19 April 2021
The UK's Most Popular Lockdown Gifts
Demand for online gifts surged by 50% in 2020 as Brits spoiled loved ones during lockdown, but what were the most popular purchases? We analysed Google data to find out.

As we near one year of COVID-19 restrictions, it's safe to say almost everyone has celebrated a major occasion in lockdown. Although 71% of weddings were postponed, around 80,000 couples still got hitched over the past 12 months, and millions of people celebrated Zoom birthdays, baby showers, engagements and more.

More than one in five Brits sent a Valentine's Day gift by post in 2021, and one in ten said they were more likely to send a gift due to lockdown restrictions separating them from loved ones.

As a result, interest in online gifts increased by nearly 50% compared to the same period in 2019. Here's what tops the nation's list of favourites: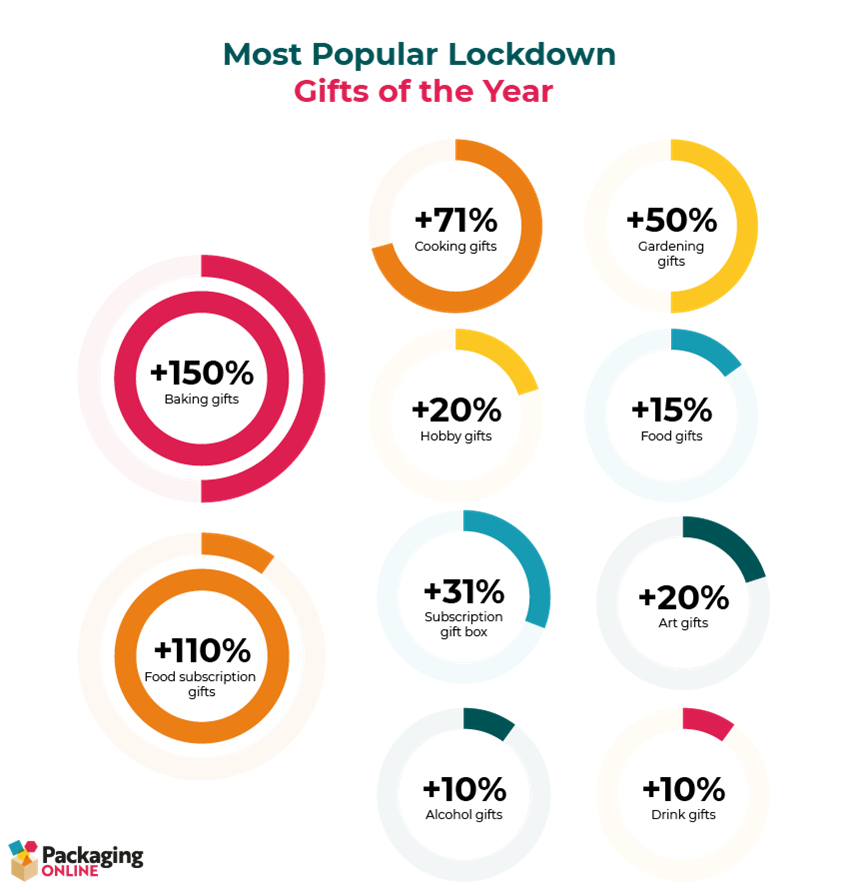 Food is the most in-demand lockdown gift
For most Brits, nothing says 'I love you' quite like an edible treat. As lockdown peaked last year, interest in online food gifts increased a whopping 427%, with chocolate, cheese and vegan treats most in demand. Unsurprisingly, interest in food gifts doubled around Christmas compared to any other occasion.
Brits send booze to each other during lockdown
With all the pubs shut, interest in buying drink gifts online tripled over lockdown, and Google searches for alcohol gifts jumped by 30% in April 2020 compared to the year before.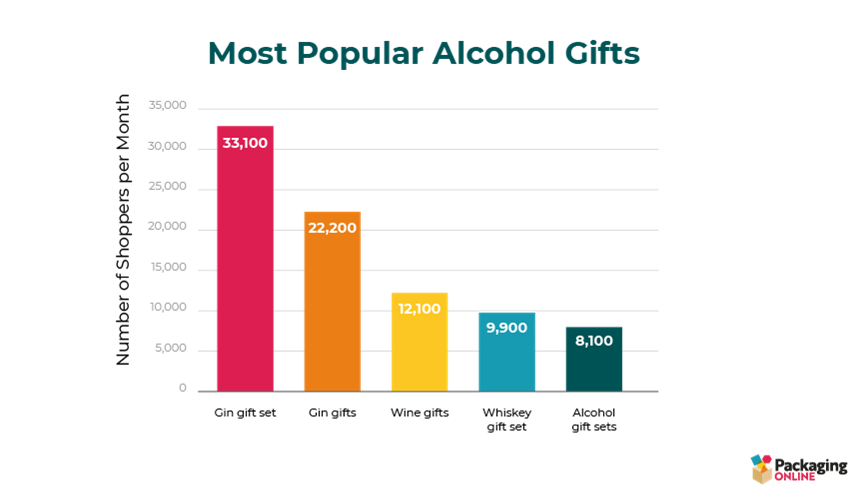 Baking and hobby gifts dominate
With everyone stuck at home, it's no surprise hobby gifts are trending. With bored Brits baking endless amounts of banana bread during lockdown, interest in online baking gifts skyrocketed by 150% in 2020, making it the most significant rising gift trend of the year (although gardening remains the top hobby gift to give).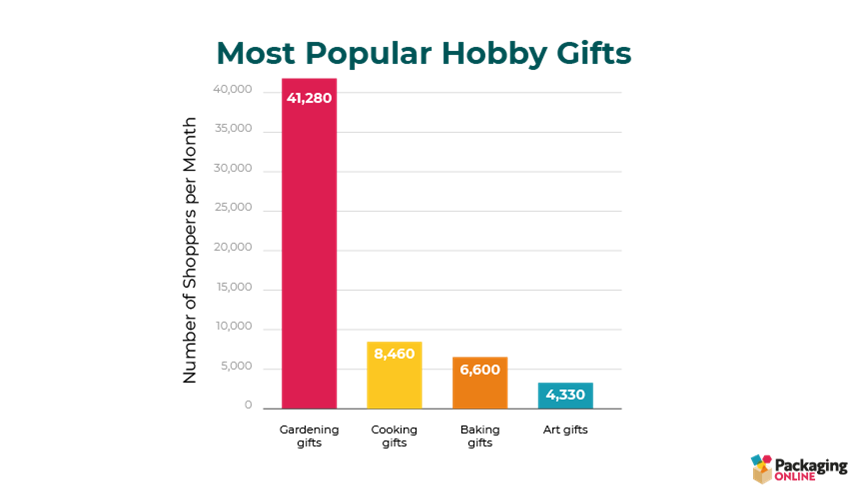 Brits will spend £240 million per year on gift subscription boxes by 2022
Interest in gift subscription boxes jumped 31% in 2020, with Brits set to spend as much as £240 million on gift subscription boxes by 2022.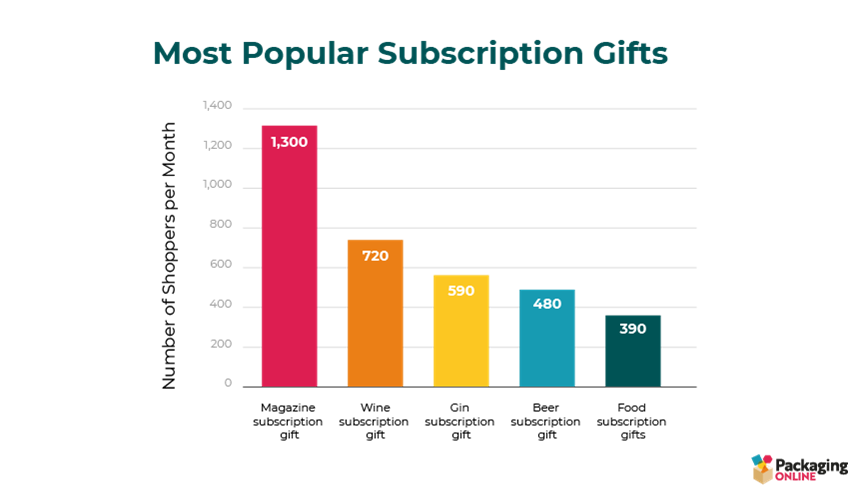 Online gifting keeps us connected
The shift towards online shopping is nothing new, but the pandemic has cemented online shopping as the go-to gifting option in consumers' minds: not just for their own shopping, but also for gifting others.

'Right now, people are deprived of the typical means of social contact. With businesses and hospitality venues closed across the country and social distancing restrictions in place, we're finding new ways to appreciate loved ones and celebrate special occasions from a distance. We're seeing this trend in real-time at Challenge Packaging, particularly with food and drinks products. Where many might previously have thought these are the kinds of gifts that require going to a shop or high street and meeting up in person, this past year has proven this isn't the case. So many businesses trade online now that it's easy to show appreciation and celebrate together, even if you're far away.'
- Tom Wood, General Manager, Challenge Packaging


Think your gift is too big, fragile or difficult to post? Think again — whatever you're sending, Challenge Packaging's solutions are up to the task. Shop our range of boxes, protective packaging, mailing bags and other solutions today.