Reimagining Cardboard Usage as Famous Cities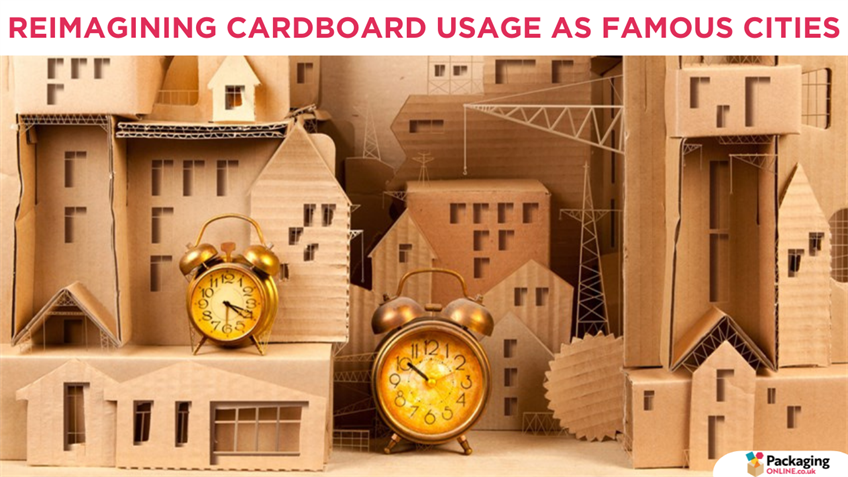 Published date: 10 October 2022
New study reveals the UK uses enough cardboard to recreate the BT Tower!
Reimagining Cardboard Usage as Famous Landmarks in London
From moving house and online deliveries to storage, food and more - the average person uses tons of cardboard and paper in their lifetime. Collectively, the UK uses more than 12.5 million tonnes of paper and cardboard annually - equivalent to 21,000 square kilometres of land, roughly the same size as Manhattan Island.
To visualise the vast scale of cardboard waste in the UK, our data analysts crunched the numbers to see which famous landmarks in London could be recreated using our collective tons of discarded materials. First, we identified some of the most famous landmarks in the city using search data, then determined the PSI (pounds per square inch) for each one. This was divided by the PSI of cardboard (200) to create our final list.
Which famous landmarks could we recreate with the UK's cardboard wastage?
For the famous landmarks we've chosen to recreate, we've replaced the steel, concrete and masonry typically associated with these architectural wonders, and replaced them with tons of cardboard.
On a daily average, more than 13,000 tonnes of cardboard are wasted in the UK, in which the average person in the UK throws away around 400kg of waste each year. With over 5 million tonnes of cardboard waste to play around with in the UK, maybe it's time to redesign from an environmentally friendly and sustainable approach by working out which landmarks can be made from cardboard.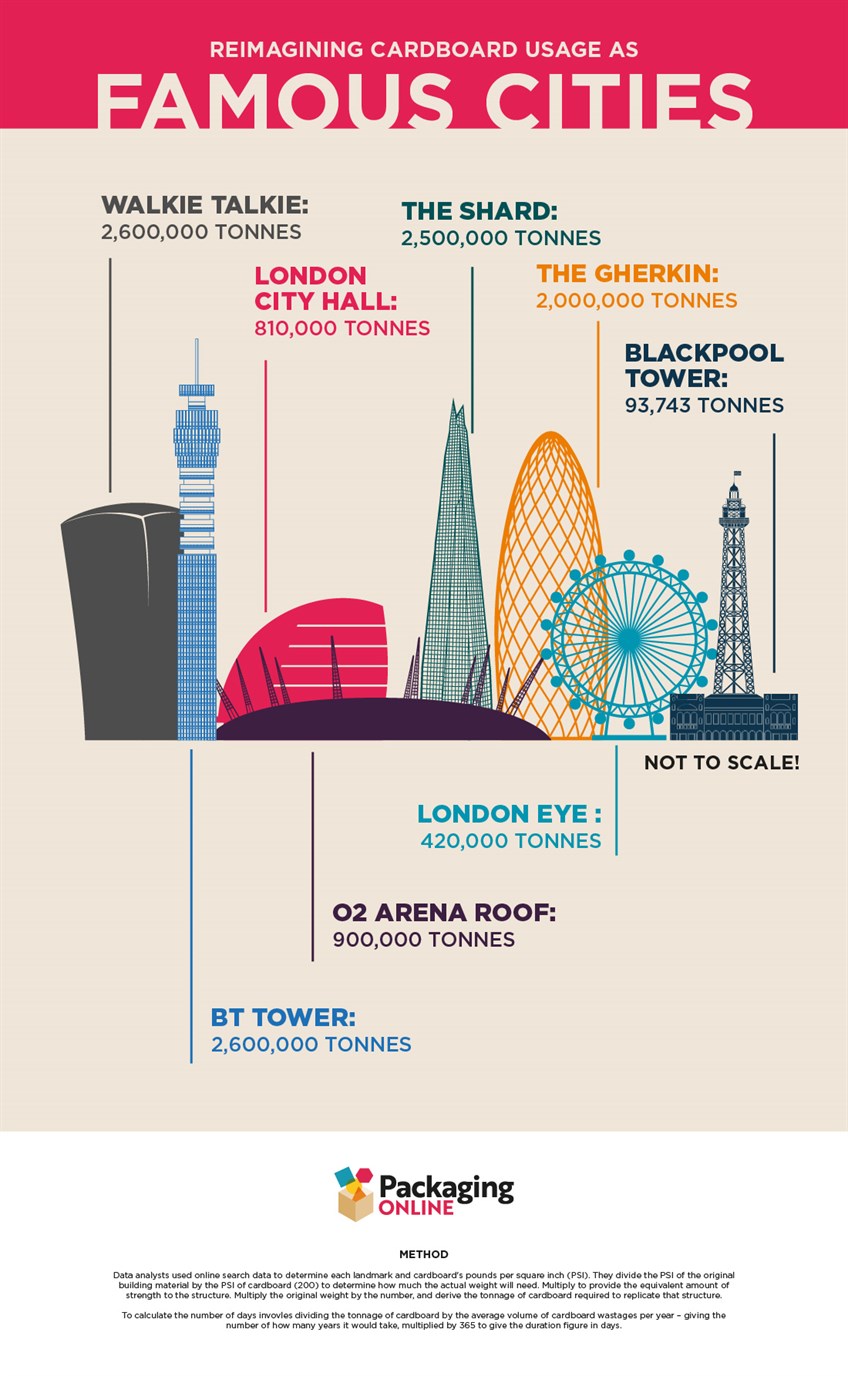 *Data was collected using the PSI of the original building material and the PSI of cardboard over the cardboard usage per year to determine the cardboard usage per landmark.
How many days would it take to reconstruct famous landmarks in London using cardboard wastage?
Walkie Talkie
The Walkie Talkie is a 38-floor building situated in the City of London and is known for being a unique office block and home to the Sky Garden restaurants. The building is made from steel frames, weighs 13,000 tonnes, and would take approximately 176 days to reconstruct using cardboard.


BT Tower
The BT Tower is vital in the UK's modern communications infrastructure and is approximately 190 metres tall. The building was constructed using structural steel frames and weighs 13,000 tonnes. Reconstructing the tower into cardboard would take up to 176 days, in which you would need 2.6 million tonnes of cardboard.


O2 Arena Roof

The O2 Arena roof is built from weather-resistant PTFE-coated glass fibre fabric panels and a steel structure. It's 170 ft tall and weighs 4,500 tonnes. Considering the structure's PSI (pounds per square inch), you would need an equivalent of 810,000 tonnes of cardboard wastage to reconstruct it. And taking into consideration how much cardboard wastage there is each year, it would take approximately 55 days to rebuild the UK landmark.


London City Hall
London City Hall in Southwark is the headquarters of the Greater London Authority. The UK landmark made from a steel structure weighs 4,050 tonnes. To reconstruct the building into cardboard, you will need approximately 55 days to build London City Hall from scratch – this equivalates to over 14,000 tonnes of wasted cardboard per day.


The Shard
The Shard, also known as Shard of Glass, is home to some of London's top offices, restaurants, and hotel rooms. It is made from 12,500 structural steel and stands 309.6 metres tall. As the PSI of the steel structure is 40,000 – it would take 169 to restructure the building using 2,500,000 tonnes of the UK's cardboard wastage.


The Gherkin
A part of London's most iconic skyscrapers and located in the primary financial district. The Gherkin would take 135 days to reconstruct, using approximately 2 million tonnes of wasted cardboard. The landmark is made from a steel structure and weighs 10,000 tonnes.



London Eye
Another famous landmark in London, the London Eye, is made from a steel structure and weighs 2,100 tonnes – this equivalates to a PSI of 40,000 and would need 28 days to reconstruct the building using 420,000 tonnes worth of the UK's annual cardboard wastage.


Blackpool Tower
One of Britain's best-loved landmarks – Blackpool Tower is built from 2,586 tonnes of Iron and has a PSI of 7250. So, if you were to recreate the tower using UK's cardboard wastage, you would need over 93,000 worth, which would take an average of 6 days to build.


Build your tower from cardboard
Whether you're re-creating your favourite UK landmark or storing your goods sustainably using eco-friendly materials and manufacturing practices, we've got what you need. Explore our range of cardboard boxes that are fit for all your needs.


Method
Data analysts used online search data to determine each landmark and cardboard's pounds per square inch (PSI). They divided the PSI of the original building material by the PSI of cardboard (200) to determine how much the actual weight will need. They then multiplied to provide the equivalent amount of strength to the structure. They further multiplied the original weight by the number and derived the tonnage of cardboard required to replicate that structure.

To calculate the number of days involved, the tonnage of cardboard was divided by the average volume of cardboard wastages per year – giving the number of how many years it would take, multiplied by 365 to give the duration figure in days.