The New Environmental Regulations Transforming UK Businesses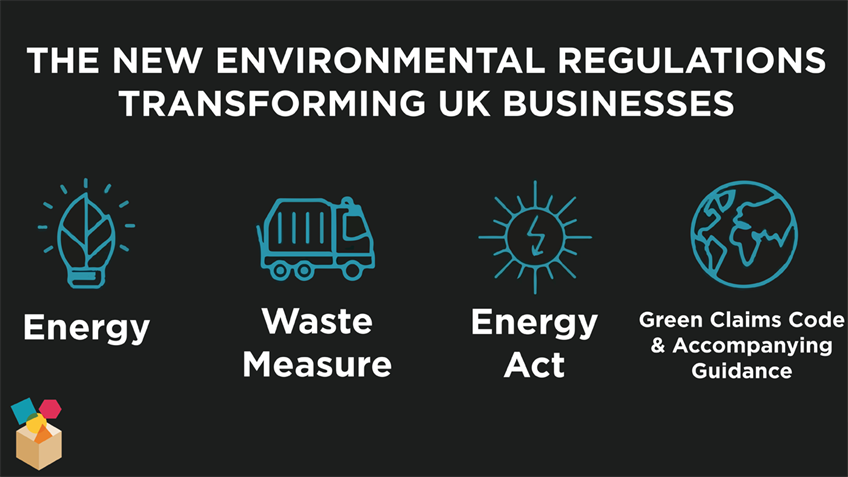 Published date: 05 October 2022
With a wealth of new legislation around sustainable business operations coming into force, the pressure is on for companies to innovate and reduce their negative impact on our natural world.
The UK has more than 200 environmental laws in place, and noncompliance can lead to hefty fines for businesses not modernising their operations to minimise their impact on the planet.
To ensure you're up to date, we've researched some of the most significant recent sustainability laws enacted in the UK, as well as the impact of environmental regulations on businesses — which can be as severe as an unlimited fine or a prison sentence for noncompliance.
The Energy Act 2013
Fine for noncompliance: up to £20,000
The Energy Act 2013 lays out the UK's 2030 decarbonisation target, including goals for attracting investment to replace fossil fuels.
Case study: wood burning power plant declared unlawful under the Energy Act 2013

Initially, wood burning power plant MGT Teesside was granted a contract by the government under the Energy Act 2013, as it was said to be a source of low-carbon energy. However, since the initial contract was finalised, it's been established that burning biomass for electricity does not reduce greenhouse gases. This development rendered the plant unlawful under Energy Act 2013 and resulted in termination of the government contract.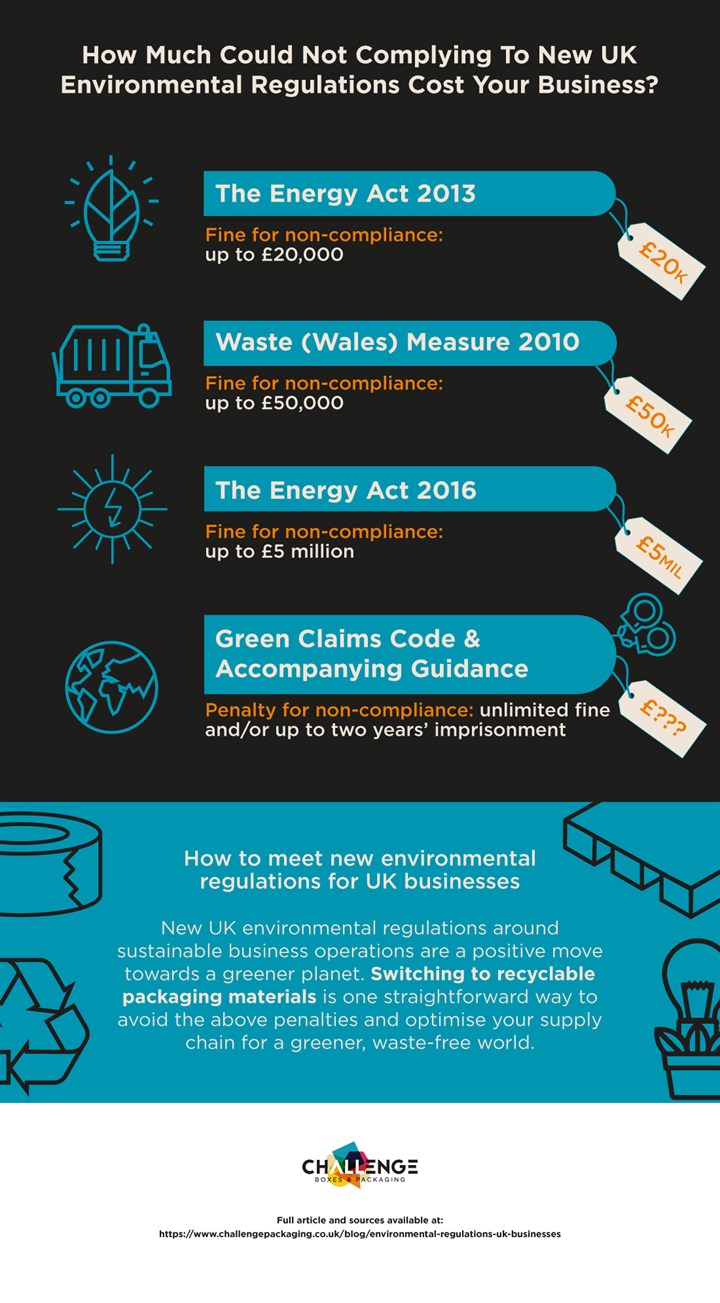 Waste (Wales) Measure 2010
Fine for noncompliance: up to £50,000
The National Assembly of Wales instigated the Waste (Wales) Measure 2010 to reduce waste, particularly relating to plastic packaging, through a number of measures:
• Reassigning proceeds from charges for single-use carrier bags
• Defining waste reduction targets for local authorities
• Prohibiting and regulating landfill waste
• Waste management plans for construction and demolition works
Case study: UK government fails to recycle incinerator waste

In 2015, the Department for Environment, Food and Rural Affairs (DEFRA) came under scrutiny for not classifying incinerator bottom ash (IBA) towards the UK's recycling performance. By simply classifying IBA as waste, DEFRA failed to utilise as much as 20% of IBA which could be recycled.

The dispute went all the way to the European Commission for a ruling based on whether the ash met the criteria set out in the Waste (Wales) Measure 2010. Since then, the UK government has issued new guidance on IBA standards and recycling.
The Energy Act 2016
Fine for noncompliance: up to £5 million
Following on from the Energy Act 2013, the Energy Act 2016 established the Oil and Gas Authority in the UK, granting it the power to apply sanctions to companies not abiding by its regulatory obligations.
Case study: ExxonMobil narrowly avoids Energy Act 2016 sanctions for their $1 billion USD oil field sale

ExxonMobil's sale of 13 oil fields — worth $1 billion USD — to NEO Energy started in February 2021. This failed to meet the requirements of the Energy Act 2016, under which ExxonMobil was required to collaborate and co-operate with others seeking to acquire an interest or invest in offshore licences or infrastructure. 

The North Sea Transition Authority (NSTA) was quick to launch an investigation into the transaction in October 2021. However, ExxonMobil narrowly avoided the sanction: the NSTA found that while communication had been lacking in some instances, the parties had met their collaboration obligations under the Energy Act 2016, and the sale concluded in December 2021.
Green Claims Code and Accompanying Guidance
Penalty for noncompliance: unlimited fine and/or up to two years' imprisonment
The Green Claims Code and its accompanying guidance helps businesses understand and comply with their responsibilities towards consumers when making environmental claims.

The code was put into place following research conducted by the Competition and Markets Authority (CMA) which found that four in ten 'green' claims made by companies online could be considered misleading to consumers. Examples include:
• Vague claims (e.g. using the words 'sustainable and 'eco' without verifying the qualities or activities backing this claim)
• Hiding or omitting information
• Brands making up their own logos to appear as if they'd received third-party verification of their ecological credentials

The code was implemented to specify the requirement for businesses to be transparent in the above areas. Not doing so may be a breach in UK consumer protection laws (Consumer Protection from Unfair Trading Regulations 2008 and Business Protection from Misleading Marketing Regulations 2008).
Case study: Lipton Iced Tea misled consumers with recycled packaging claims
Pepsi Lipton's popular Lipton Iced Tea brand released a poster which showed two bottles of the product, a recycling logo and a claim that the product was '100% recycled*'. The asterisk linked to small text at the foot of the poster stating that the bottle was made from recycled plastic, but the label and cap were not.

Despite including this qualification in small print, the Advertising Standards Authority (ASA) found the ad to be misleading as the small text did not counter the overall impression that all components of the Lipton Iced Tea bottle were made entirely from recycled materials. The ad was banned as a result of the ASA's decision.
How to meet new environmental regulations for UK businesses
In the context of potentially unlimited fines and the looming climate crisis, now more than ever businesses need to be incorporating sustainable practices across their operations, from manufacture to sale.
'New UK environmental regulations around sustainable business operations are a positive move towards a greener planet. Switching to sustainable packaging is a straightforward option for companies to assist compliance with new sustainability laws. You can easily purchase online cardboard bulk distribution boxes and cardboard containers for shipping and storage, ensuring recyclable packaging usage throughout the supply chain. Solutions such as corrugated paper rolls, hexcel wrap and eco-insulated boxes enable a wide variety of products to be transported and stored in eco-friendly packaging, assisting businesses towards their sustainability goals.'
- Tom Wood, General Manager, Challenge Packaging
Sources
https://www.lexisnexis.com/uk/lexispsl/corporatecrime/document/391421/56CN-TKS1-F188-N452-00000-00/Offences_under_the_Consumer_Protection_from_Unfair_Trading_Regulations_2008_overview#:~:text=The%20criminal%20offences%20under%20CPUTR,well%20as%20using%20aggressive%20practices.
https://brodies.com/insights/ip-technology-and-data/a-brief-overview-of-the-business-protection-from-misleading-marketing-regulations-2008/#:~:text=The%20prohibition%20on%20misleading%20advertising,up%20to%202%20years'%20imprisonment.
https://envirotecmagazine.com/2021/12/10/subsidies-to-biomass-plant-in-teesside-must-be-stopped-says-environmental-coalition/
https://www.gov.uk/government/collections/energy-act
https://cedrec.com/legislation/14606/summary
https://www.climate-laws.org/geographies/united-kingdom/laws/energy-act-2016
https://www.oedigital.com/news/491572-transaction-drag-uk-regulator-launches-probe-into-1b-exxon-neo-north-sea-deal
https://www.letsrecycle.com/news/incinerator-ash-classification-under-review/
https://assets.publishing.service.gov.uk/government/uploads/system/uploads/attachment_data/file/535281/LIT_5503.pdf
https://www.oedigital.com/news/495809-uk-north-sea-regulator-urges-oil-firms-to-collaborate-effectively-on-transactions-of-face-sanctions