Our Postal Boxes are 100% recycled and plastic-free

Ocean friendly, Plastic Free

Royal Mail PIP compliant

Easy to use

Compostable for easy disposal

Range of sizes available to suit your needs

We manufacture 5 styles of postal boxes (Please see Info icon for more information)
Est. Dispatch Date 07 December 2023
Close
Postal Boxes
Product Code
POSTAL-BOXES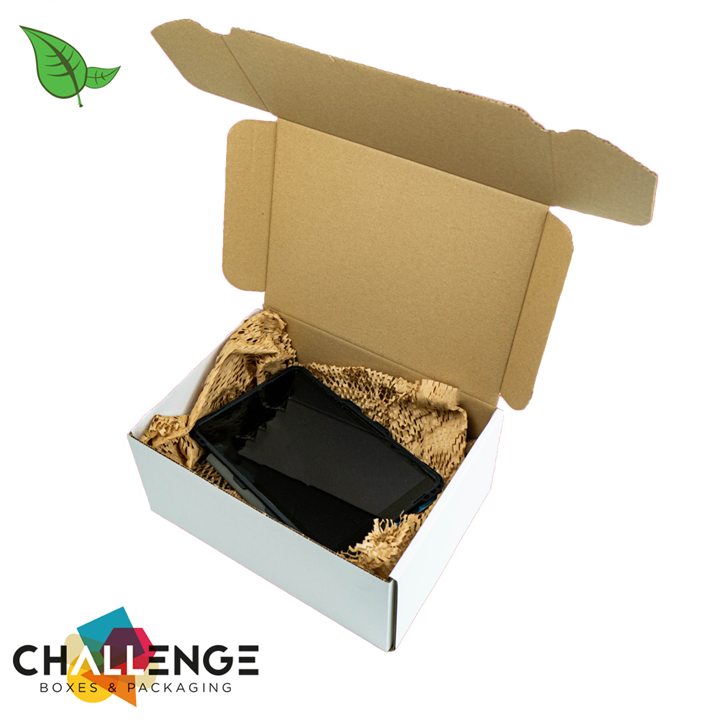 Here at Challenge Packaging, we're proud to offer cardboard postal boxes that make sending gifts and products to customers and loved ones easy and efficient.
What are postal boxes?
Postal boxes are cardboard packaging options that protect a range of goods in transit, as well as offering a pleasant unboxing experience for the recipient. Popular amongst those sending high quality products and gifts, postal boxes come flat packed for easy storage.
What styles of postal boxes are available?
The mailing boxes we provide here at Challenge Packaging are available in a wide variety of sizes, as well as two different colours; select between white postal boxes or brown postal boxes when you make your order.
Choosing the right cardboard postal box
To make the right impression through the post, and to ensure your goods get to their destination safely, it's essential to make the following considerations when choosing the right cardboard postal box for you:
Size and space
Measure your product, and give thought to any packaging materials, such as shredded cardboard, that will need to provide an extra layer of protection in transit.
Strength
Consider the weight of your goods to work out whether a postal box is suitable for their journey.
Colour
Usually available in white or brown, postal boxes can say a lot about your business - consider what would go best with your branding.
Storage
For many businesses, no matter how large or small, postal boxes will only be assembled as they're needed, so flatpack options are preferable.
Sustainability
What happens to your postal boxes once the goods have been delivered? It's essential that recipients can confidently recycle the postal boxes they receive their goods in.
E-commerce delivery boxes for your business
Postal boxes are particularly popular for e-commerce businesses keen to present their products well in addition to protecting them in transit. This includes those that sell on online marketplaces such as Amazon, Etsy, and AliExpress.
Why choose Challenge Packaging?
For high quality delivery boxes, we're proud to offer easy ordering, fast delivery, and of course, excellent products that you can rely on. With a wealth of experience in the packaging industry, we know how much trust you need to have on the boxes you send your goods in, and it's our pleasure to ensure they get to their destination safely. Sustainability is something we're passionate about, and so our postal boxes are 100% recyclable.
Frequently Asked Questions
How will I know what Royal Mail parcel category my postal box will fit into?
Before you order, you can see what Royal Mail category the postal box is compliant with - it will either be a small parcel, or a medium parcel, allowing you to accurately calculate costs. For example, the ASCDB61 box fits the maximum external dimensions of the Royal Mail small parcel length, width, and depth.
When will my postal boxes be delivered?
Provided that your order is received by us before 3pm on a weekday, you can expect your boxes to be put on our 1-2 day delivery turnaround.
Are postal boxes easy to assemble?
They're very easy to assemble - just fold along the lines as directed.
Is delivery free?
For orders over £100, yes! If your order is under £100, delivery costs £12.50.
Are postal boxes lightweight?
Yes, postal boxes are super light-weight.
Technical Specification
No specifications available.
Reviews
Good Value for Money Super easy website
I used these postal boxes for a small Etsy product launch and they were amazing ! Highly Recommend
There are no download types with downloads for this product.
No recently viewed products