Digitally Printed Boxes are they expensive? Or are they great value?
Firstly, what is Digital Print?
When most of us think of digital printer we think of our home desktop printer or our office photo copier, and you're not far off to be fair ours are just a lot bigger with some extra bells and whistles and designed to print cardboard. The fantastic thing about of our digital printer is you can have one of our off the shelf boxes and plaster it with your own logo or imagery in full colour. This also means you only have to buy as little as 10 on some of our range. There are no set up costs, no special inks to mix up and generally with a faster turnaround. Compare this against the most common print process for box, flexographic print which has minimum order quantities of typically of a few hundred, set up costs that will include printing plates (1 is required for each colour of the artwork, 2 colours in your logo? then 2 printing plates are required).
We all know the value of brand or imagery, making you stand out from the rest but £'s per box does look expensive to get your logo or design on a box so let's take a closer look.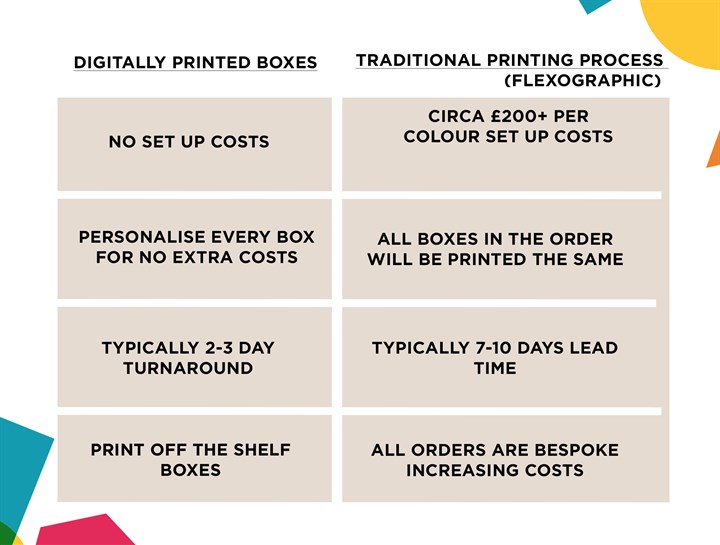 When are Digitally Printed Boxes the right choice for me?
Start-up business / testing the water.

Sending bespoke gifts to your top customers, target audience or even your friends and family.

Teaser packs

Product launch packs

Boxes for a promotional photoshoots or video.

Limited Seasonal product lines (Christmas, valentines etc.)

You require 250 printed boxes or less

Exhibitions to showcase your products with the extra wow factor
If you have any questions about Digital Printed Boxes or any other product, we off then please get in touch, give us a call or send us an email using the details below.