Data Experts Reveal: Who is the best flower delivery service in the UK?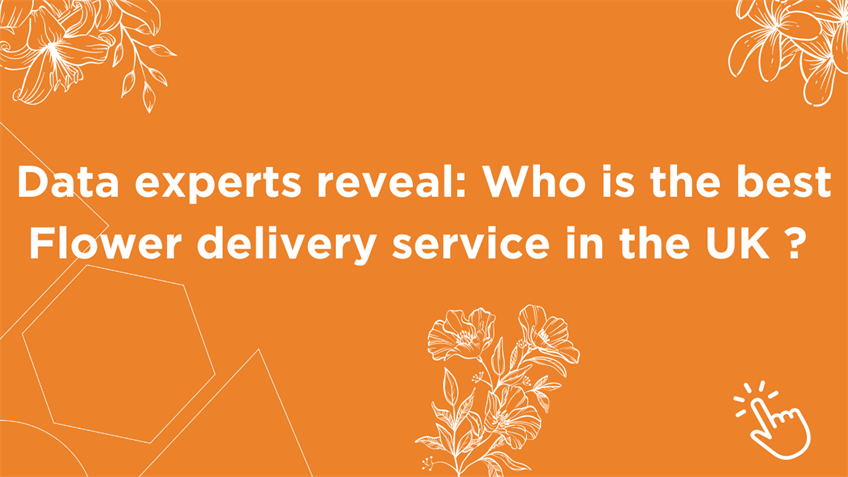 Published date: 15 February 2023
With Mother's Day, your next anniversary or birthday right around the corner – the demand for flower delivery services has grown each year. Whether you're working from home, in another city, or simply living a busy lifestyle, more people are now opting to use online retailers such as flower delivery services, which has led to over 1.5 billion parcels being sent by various delivery companies across the UK by the end of the fiscal year in March 2022.
Online florists offer their customers many options, such as flower letter boxes, artificial flowers, and flower subscription services. No matter the occasion, finding the perfect arrangement of flowers can be a bit of a challenge. Like so many others, you could be thinking, "what are the best flower delivery websites?," so we've researched the internet near and far to discover and rank the best and worst flower delivery services in the UK.
Who is the best flower delivery service in the UK?
The Flower Delivery Service with the Most Range – FlowerBx
Many of us have experienced the frustration of picking out the perfect arrangement of flowers, whether for a birthday, anniversary, or funeral, only to take much longer to decide on the right bunch than it takes to deliver. On the brighter side of the sunflower, data shows that FlowerBx is the best flower delivery service for having the biggest range of flowers.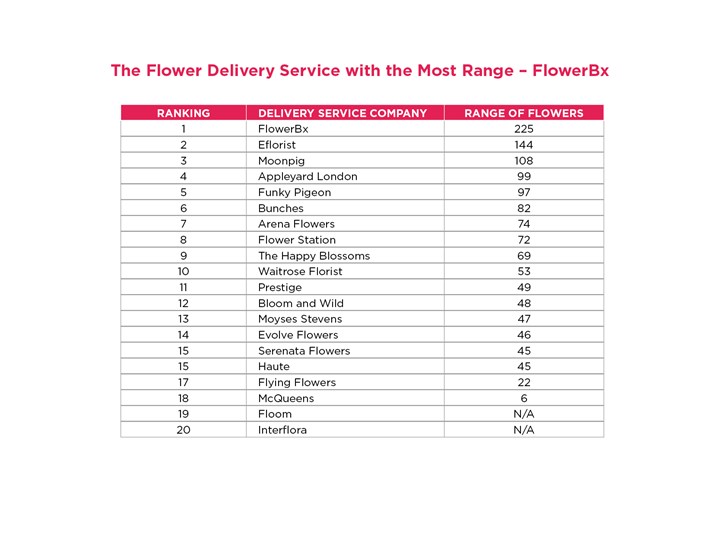 The Cheapest Flower Arrangements– Flying Flowers
Who says you've got to spend a lot of money for the brightest bunch? Whatever the budget you've got in mind, Flying Flowers can help you find the cheapest flower arrangements, starting at as low as £30 – choose from a variety of letterbox flowers and vase bouquets.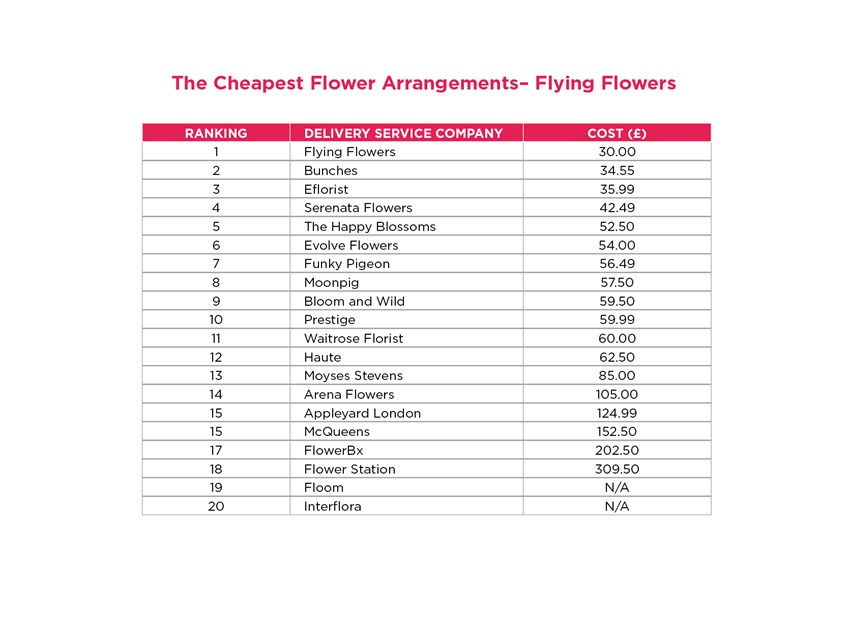 The Best Next Day Delivery Flower Service - Flying Flowers
It looks like Flying Flowers has your back for not only ranking top for the cheapest flowers but also ranking in first place for the best next-day flower delivery service.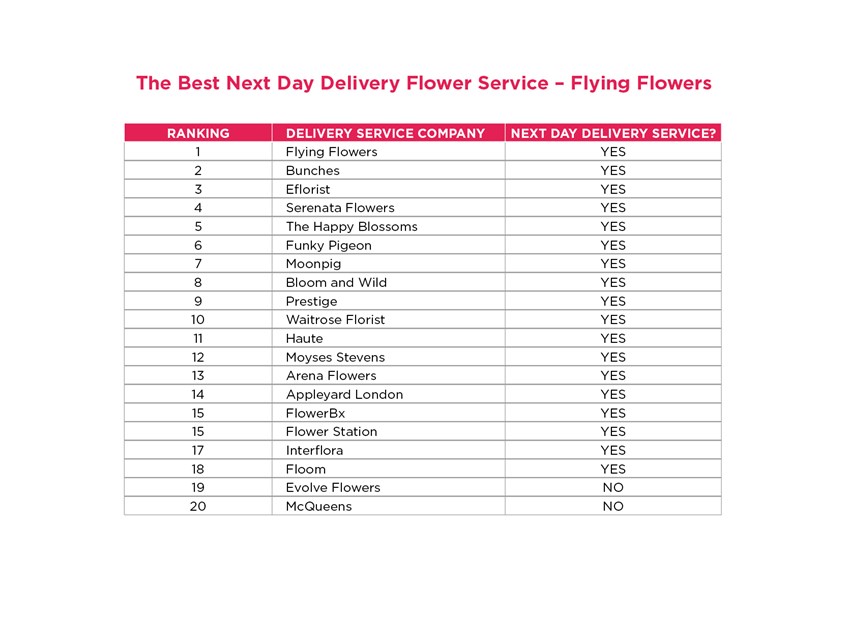 The Cheapest Flower Delivery Service - Flying Flowers
Flying Flowers prove to all flower hunters that sending a gorgeous gift shouldn't be an expensive idea and should be as simple and elegant as the flowers you chose; with free next day delivery you can spend all your budget on beautiful blooms.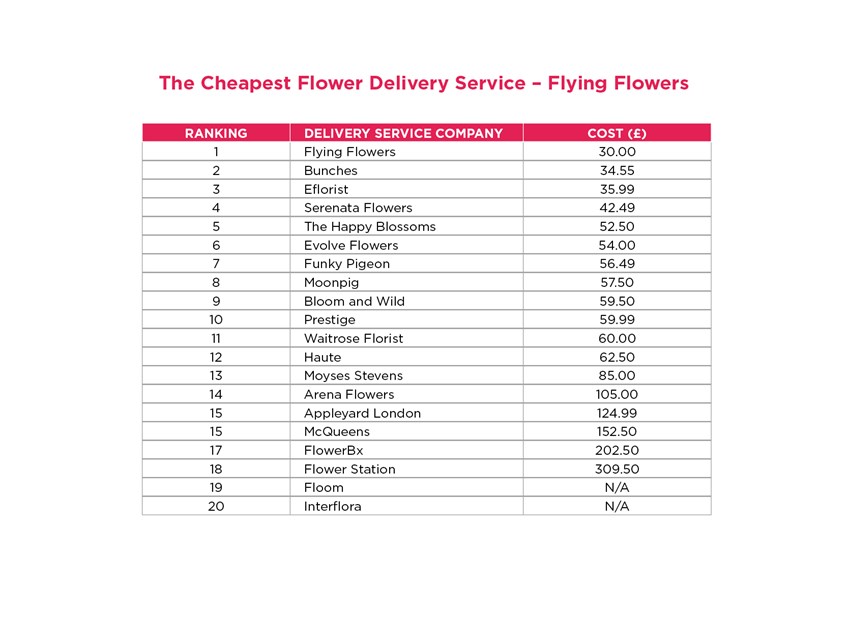 The Highest Reviewed Flower Service Company - Bloom & Wild
Between the biggest flower arrangements, next-day delivery services and cheapest flower delivery services – data reveals that Bloom & Wild is currently the people's favourite as it ranks number one with a high rating of 4.8 points out of 5 for factors such as delivering on time, long-lasting flowers and excellent customer service.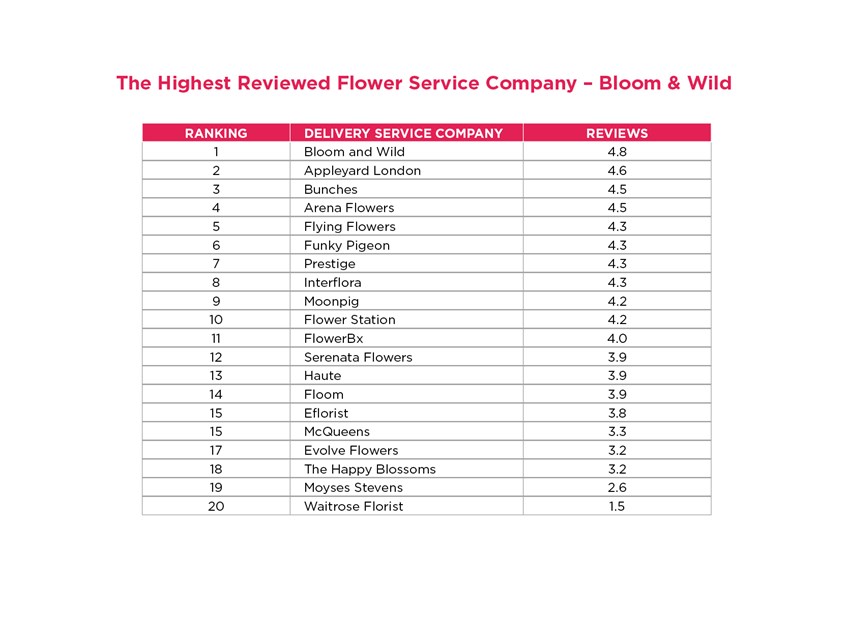 WINNER: Bunches is the best flower delivery service
Although Bunches didn't reach the top spot for any of the best flower delivery categories – overall the flower company scored the highest. Receiving positive feedback from its customers on Trustpilot – Bunches is the best flower delivery service in the UK combining its scores from across the categories we looked into.
For all anthophiles and floraphiles alike – they're appreciative of Bunches' prompt deliveries, flower assortments and low costs, so much so that the flower company ranked higher than more familiar brands such as Serenata Flowers and Interflora.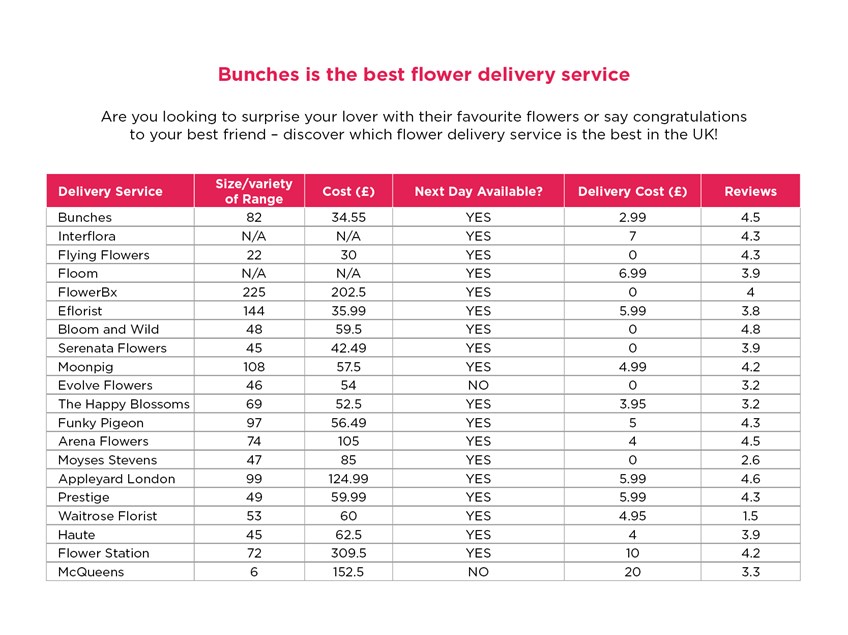 Easy-to-Order Packaging for every delivery, for every flower.

Challenge Packaging provides packaging solutions for anyone, from individuals looking to send flowers to small florist businesses looking for excellent quality letterbox flower packaging. Not only are our flower boxes made of light yet durable materials- but they're also eco-friendly and 100% recyclable. All our letter box boxes and flower boxes are Royal Mail compliant and completely secure postal solutions.

Methodology: Our data analysts used Google Search Engine to research 20 flower delivery services, looking at the size/ variety of the range (number of different bouquets available). The companies this wasn't available for were because they outsourced to companies local to the person receiving the flowers - these results were divided by three. Then looked at the average cost. The companies with no fees available are for the same reason as above. Then looked at whether next-day delivery was available. Then looked at the cheapest available shipping option, then reviews on Trustpilot.