Protect Your Parcels: One in Ten Brits aren't Getting their Deliveries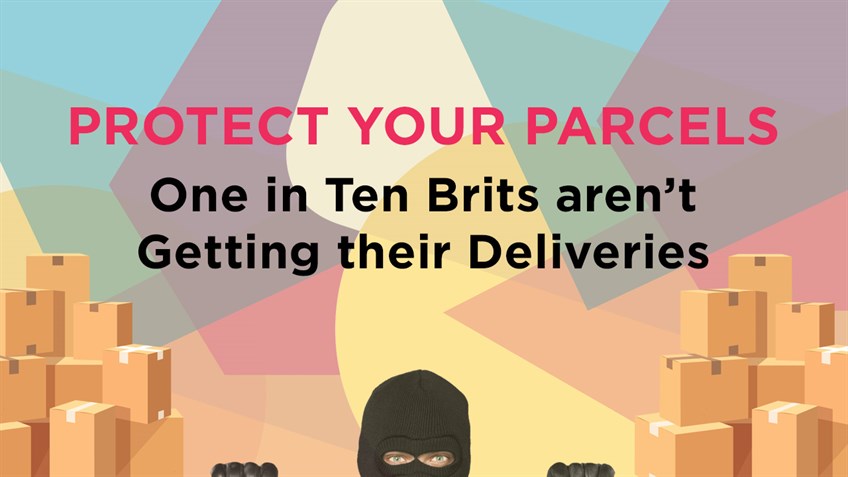 Published date: 13 September 2021
Did you know that one in ten Brits have had parcels lost or stolen in the past year? With so many of us shopping online during lockdown, parcel deliveries have skyrocketed – and opportunistic theft has risen too.
Doorstep parcel theft (or "porch piracy") has been on the rise in the UK for years. How has this changed over the past year and a half, and what can you do to reduce the risk of parcel theft?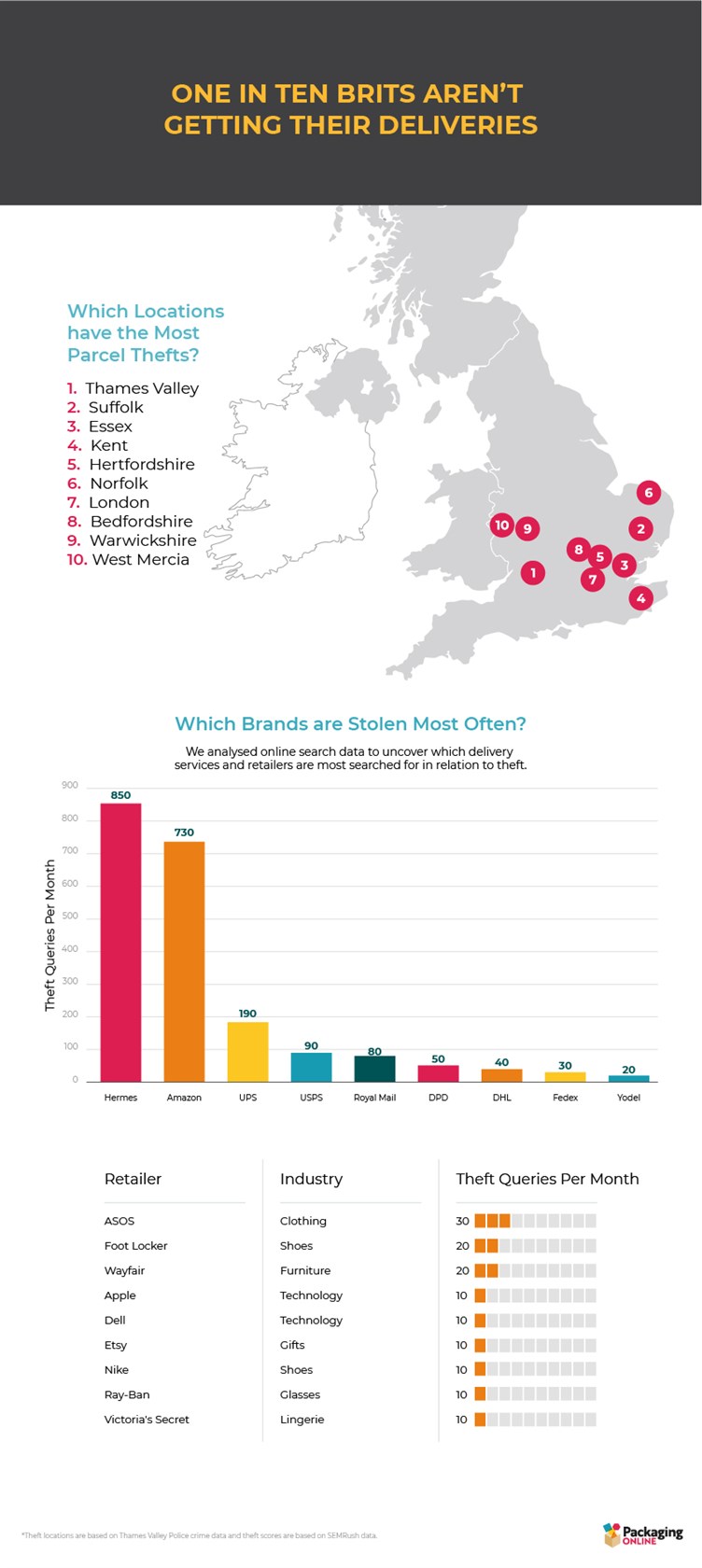 How Common is Package Theft?
Even before the COVID-19 pandemic, parcel theft was an issue in the UK. From 2019 to 2020, there were more than 2.6 thousand "theft of mail" offences reported in England and Wales.
These numbers have continued to rise between 2020 and 2021. During lockdown, one in ten Brits — a total of 5.5 million people — claimed at least one of their parcels was stolen or lost.
Across the pond in the US, American shoppers are facing the same challenges, with those reporting stolen packages rising from 36% to 43% between 2019 and 2020.
Our research shows our biggest parcel theft concerns are:
| | |
| --- | --- |
| Parcel Theft Concern | Concern Score* |
| What to do if a package is stolen? | 100 |
| How to protect packages from being stolen? | 46 |
| Does Amazon give refunds for stolen packages? | 27 |
| What happens if my package was stolen? | 19 |
| Can I report a stolen package to the police? | 9 |
*Concern Scores were calculated using search trend data on SEMRush, with 100 being the highest concern score and all other scores calculated in relation to this.
Which Locations have the Most Parcel Thefts?
UK police data
put online shoppers on alert by identifying the top areas for parcel theft. The ten biggest hotspots are:
1.
Thames Valley
2.
Suffolk
3.
Essex
4.
Kent
5.
Hertfordshire
6.
Norfolk
7.
London
8.
Bedfordshire
9.
Warwickshire
10.
West Mercia
Which Brands are Stolen Most Often?
Search data shows which delivery services and retailers are most associated with parcel thefts.

Hermes and Amazon are the top two delivery services most likely to have packages stolen. Online queries suggests packages from Hermes and Amazon are stolen over three times more than any other delivery service.
| | |
| --- | --- |
| Delivery Service | Theft Queries Per Month |
| Hermes | 850 |
| Amazon | 730 |
| UPS | 190 |
| USPS | 190 |
| Royal Mail | 80 |
| DPD | 50 |
| DHL | 40 |
| Fedex | 30 |
| Yodel | 20 |



Looking at the brands receiving the most theft queries, we can see that thieves are most likely to target packages containing high-tech gadgets and fashion items. These small but valuable items are light and easy to steal, making them an easy choice for opportunistic thieves.
| | | |
| --- | --- | --- |
| Retailer | Industry | Theft Queries Per Month |
| ASOS | Clothing | 30 |
| Foot Locker | Shoes | 20 |
| Wayfair | Furniture | 20 |
| Apple | Technology | 10 |
| Dell | Technology | 10 |
| Etsy | Ecommerce | 10 |
| Nike | Shoes | 10 |
| Ray-Ban | Glasses | 10 |
| Victoria's Secret | Lingerie | 10 |
Tips for Avoiding Parcel Theft
In recent years, Brits have been devising innovative anti-theft measures to keep their packages safe. Some of the more creative ideas, like stink bombs and glitter bombs, have even gone viral! Here are some less drastic (but highly effective) steps you can take to protect your parcels.
Smart package theft deterrents:
Keep the front porch (or general package drop-off area) of your house clearly visible. Cut back any overgrown shrubs or other obstructions. This will make your porch less likely to be a target for thieves.
Put up a sign in your yard or window advertising your security company; this can act as an effective warning to would-be thieves.
Subscribe to delivery alerts, so you can track your parcel and make sure you're likely to be home when it arrives.
Request deliveries that require your signature, so that nobody unauthorised can sign for your parcels.
Install outdoor security cameras with a view of the package drop-off area on your property. Make sure the cameras are visible (but not accessible) to potential thieves.
Get a video doorbell with motion activation. This will let you know if there's a thief on your porch and might even catch their face on camera.
Have a package lockbox installed next to your regular mailbox. This will keep your package concealed and secure.
Ask senders to ship your goods in plain, non-descript packaging. A plain box is less likely to be stolen than one bearing the branding of a high-end store.
'Many consumers opt for discreet packaging as a means to keep gifts a surprise from loved ones. But simple delivery packaging holds utility beyond gifting events: discreet packaging is a sensible move for those looking to avoid parcel thefts — something that's shown itself to be increasingly important as we move online for more and more purchases.

We see many clients move to printing inside postal packaging rather than on the outside for this reason. In doing so, the convenient online purchasing and delivery experience is still there, but without the heightened risk of theft thanks to the removal of conspicuous aspects of valuable postage items. This keeps deliveries safer not just on arrival at your doorstep, but throughout their travels through the delivery network.'

– Tom Wood, General Manager at Challenge Packaging

Plain
cardboard boxes
are economical and durable, the ideal way to protect your goods during shipping while also avoiding unwanted attention from thieves. You'll find a wide variety of box sizes and styles available online at Packaging Online, easy to order straight to your home, office or otherwise.
Shop online today.
Method:
Data around parcel theft concerns and brands and delivery companies most associated with parcel thefts was researched using SEMRush.