A World Without Cardboard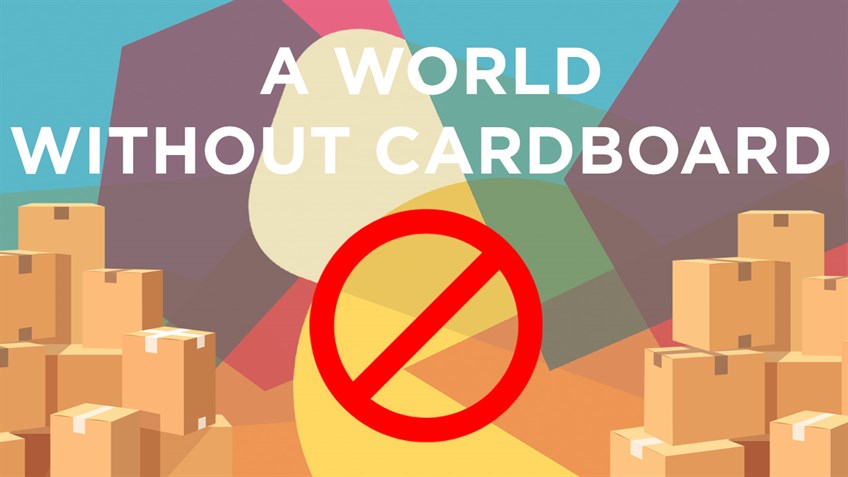 Published date: 11 February 2022
It's no secret that online shopping has skyrocketed over the past two years. With storefronts closed and high streets desolate, those sequestered at home took to the internet in swathes for online shopping. As a result, we've not only built a collection of lockdown comfort purchases, but we've also collected a covert by-product of our prolific online activity: cardboard.

While the exact number is unknown, it's suggested that UK homes are withholding as many as 135 million cardboard boxes. In fact, masses of Brits holding onto cardboard packaging rather than recycling and returning it to the supply chain have caused a national shortage and impacted many businesses.

This got us wondering…
What would a world without cardboard look like in a prolonged global cardboard shortage?
We calculated the quantity of cardboard used for different products to discover the benefits of cardboard packaging — and how apocalyptic a world without cardboard would be.
131.2 billion parcels wouldn't be received
From gadgets and the latest tech to toys, groceries and clothes, pretty much everything can be ordered online these days. In 2020, global parcel volumes increased a massive 27% to 131.2 billion – i.e. 4,160 parcels sent every second!

Now, imagine if that hadn't been possible. Over the pandemic, 37 million UK online shoppers would have been deprived of creature comforts and essentials.
• 55% (20.4 million) would be without new clothing, shoes and accessories.
• 32% (11.8 million) would have frequented supermarkets more regularly — potentially worsening the spread of Covid — being unable to order restaurant dishes and fast food at home.
• 29% (10.7 million) would have been even more bored without new books to pore into, and 24% (8.9 million) would have felt the gap of new computers, tablets, mobile phones and other devices.
10 billion people would miss out on their favourite subscriptions
The £14 billion subscription box industry wouldn't exist if it weren't for cardboard! 88 million subscription boxes delivered annually in the UK would cease to exist. Globally, we estimate this would equate to 10 billion subscription boxes per year.

That's a lot of enthusiastic subscribers missing out on their regular dose of coffee, makeup, vegetables, fragrances and other popular goodies and hobbies.
138 million households would be unable to move home
In a total cardboard shortage, 1.2 million UK households would be unable to move every year, as we wouldn't have the 39.6 million boxes required to move furnishings and possessions.

Magnify this to a global level, and you're looking at 138 million households (which would typically require 4.6 billion moving boxes) unable to move home every year. That's about the same number of houses as currently exists in the US!
5 billion pizzas would go uneaten
The UK eats 26g of takeaway pizza per person per week. We did the maths, and that's a lot of pizza: 302.5 million pizza takeaways annually!

Without cardboard pizza boxes, a whopping 5 billion pizzas would go undelivered. Takeaway night would be ruined!
14 billion people would go barefoot
Our research suggests 14 billion pairs of shoes are bought every year – but not without cardboard! Without shoe boxes, footwear couldn't be delivered from online outlets, and those bought in stores may well be damaged in transit between the factory to your home.
23 million homes with missing furniture
Flatpack furniture has revolutionised home décor, and without cardboard, this billion-pound industry wouldn't be feasible. Books would go unshelved. Pictures would pile up unframed. Instead of tables, we'd have to eat from our laps.

As one of the sector's market leaders, Ikea alone makes £35 billion in revenue per year, equating to around 23 million furniture sales – i.e. as many as 23 million homes that would go without essential items if it weren't for flatpack furniture.
Millions of loved ones would miss out on gifts
Without card and cardboard, we lose the ability to show affection towards loved ones in the form of cards and presents.

We've talked before about gifting dates and cardboard usage in the UK. On a global scale, no cardboard means over 4.2 billion people who celebrate Christmas wouldn't receive cards or presents, and 2.6 billion people who celebrate Easter won't have a chocolate egg to enjoy.
In a global cardboard shortage, wouldn't we just use cardboard substitutes?
Well, yes, we would. In fact, we already have cardboard substitutes in the form of the widely-used plastic that's currently clogging up our landfills and oceans.

If it weren't for cardboard, there'd be:
• 4.6 billion extra plastic bags and plastic boxes for home movers
• 5 billion plastic pizza boxes
• 131.2 billion plastic bags and packaging for home deliveries, including 10 plastic billion subscription packages
• 14 billion plastic shoeboxes
• 39 million tonnes of extra plastic gift packaging

And that's just the tip of the iceberg.
A new appreciation for the benefits of cardboard packaging
Next time you order a pizza, shop online or buy a pair of shoes, remember the important benefits of cardboard packaging. Not just in making your life easier, but also in reducing our impact on the environment. If it weren't for cardboard, billions more pieces of plastic would be polluting the planet today.

Shop cardboard single wall boxes, double wall boxes, long postal boxes and all manner of packaging supplies for your needs. Challenge Packaging offers sustainable postage solutions, all with the goal of being 100% carbon-neutral by 2025. Browse our range today.


Sources & Method
UK annual pizza consumption was calculated using:
• Statista data on weekly pizza consumption in the UK in grams.
• Cement Answers data on the average pizza weight.

Shoe shortage was calculated using:
• Data around UK shoe spending from Statista.
• The average London shoe price from Expatistan.

Ikea furniture sales based on:
• Ikea revenue data from Statista.
• Average furniture costs from Furnishr.

Marriage data based on UK data from Statista.