The Most Sustainable Events In The UK For Summer 2022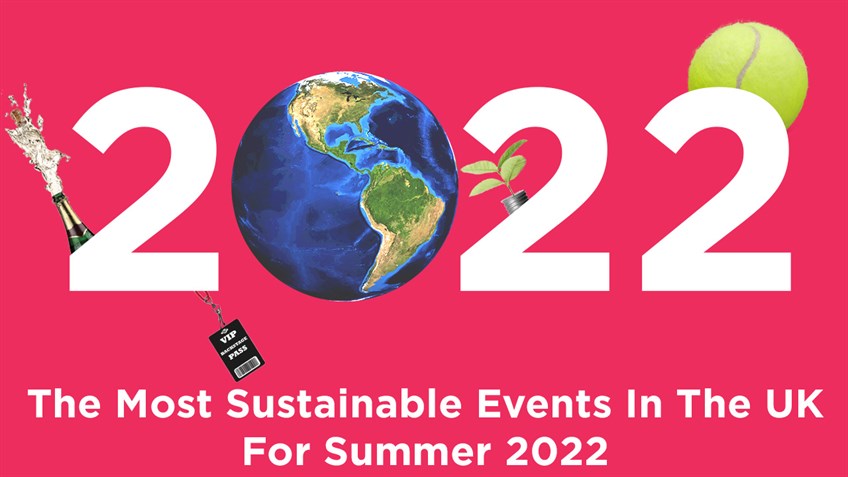 Published date: 01 July 2022
This year, summer events are finally back in full swing. From watching the tennis at Wimbledon with a prosecco in hand to trudging through mud to listen to some of the world's biggest performers at Glastonbury Festival, we've got a calendar brimming with events to make the most of summer 2022.



While everything else is back to normality, it's good to see one thing changing drastically: sustainable event practices. Events companies are revolutionising their operations to keep the UK (and the wider world) green and eco-friendly. According to The Show Must Go On Report, 68% of festivals now have an event sustainability coordinator, and 28% have a budget dedicated specifically to sustainability. Overall, festival waste has been reduced by around one-third since 2014.



Let's see how some of summer's biggest events are doing their part to save the planet, and which have the most sustainable practices.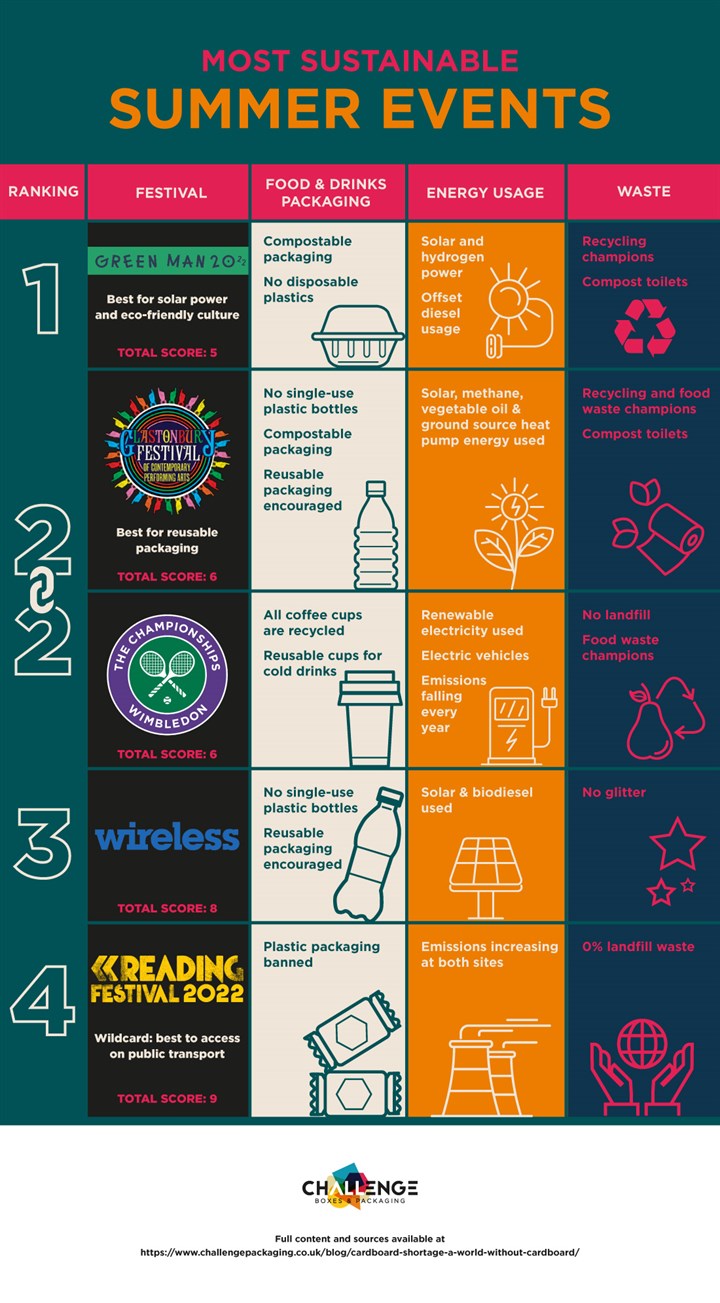 1) The Most Sustainable UK Summer Event: Green Man Festival


Green Man Festival is held in the picturesque Brecon Beacons in Wales and, as you can guess by its name, being green and eco-conscious is a priority for this upcoming festival. With its 100% solar powered Solar Stage, Green Man is the best festival for solar energy usage. Plus, it's the top festival for encouraging an eco-focussed community culture thanks to its recycling bag scheme encouraging festival-goers to recycle their campsite waste. No wonder Green Man is ranked as the most sustainable summer event!




Green Man Festival Food and Drinks Packaging
No plastic straws

Reusable stacking cups are sold

Reusable coffee cups are supplied

All food trading cutlery and packaging is 100% compostable

No disposable plastics are allowed anywhere on the festival site




Green Man Festival Energy Usage
Solar stage is 100% solar powered

Omni Tent and Workshop Dome are powered by a hydrogen fuel cell

2017 saw the festival offset 34,975 litres of diesel usage




Green Man Festival Waste
8 tonnes of paper and cardboard was recycled in 2018

Every festival goer is supplied with recycling and non-recycling bin bags upon entry, with holding points located throughout the site

Compost toilets are used throughout the site

No glitter is available at the festival to minimise microplastic waste




2) Glastonbury Festival


Glastonbury is the UK's largest festival, offering a wealth of music, dance, comedy, circus and other performances to its 200,000 attendees — that's a lot of potential waste to dispose of! Luckily, Glasto has always been known for its sustainable event practices: every five years, the organisers have a 'fallow year' where the festival doesn't take place to give the land a break to recover. Plus, the festival is the best for utilising reusable packaging, including through selling 20,000 reusable stainless steel water bottles per year.



This is just the tip of the iceberg of how Glastonbury organisers work hard to reduce the festival's environmental impact…




Glastonbury Festival Food and Drinks Packaging


Sale of single-use plastic bottles has been banned since 2019

Only the sale of compostable or reusable plates and cutlery is allowed

20,000 reusable stainless steel water bottles are sold as an alternative to single-use plastic bottles per year




Glastonbury Festival Energy Usage
Glastonbury Festival offices are powered by solar energy

Greenhouse gases from farm waste are captured and used to power production areas for the festival

Hydrotreated vegetable oil is used in generators to reduce CO2 emissions by 90%

185 low-energy tower lights are used on site

Offices are heated by a ground source heat pump




Glastonbury Festival Waste
In 2019, the festival recycled over 68 tonnes of paper and card, 38 tonnes of glass, 57 tonnes of cans, 17 tonnes of plastic bottles, 14,000 litres of cooking oil (used for biofuel) and 149 tonnes of food waste (turned into compost)

Glastonbury's 1,200 eco-friendly compost toilets yield over 500 tonnes of horticultural compost every year




2) Wimbledon


Grab your strawberries and cream: Wimbledon starts on 27th June, marking the beginning of 2 full weeks packed with 679 matches between the world's best tennis players. The good news is that Wimbledon organisers take special measures to recycle the tennis balls used in the tournament, including donating 36,000 to help protect endangered mice!



How else does the British leg of the Championships do its part for the planet?




Wimbledon Food and Drinks Packaging
All coffee cups are recycled

Reusable cups are used for all cold drinks




Wimbledon Energy Usage
Wimbledon buy renewable electricity to power their operations

High-efficiency LED lights have been installed around the estate

Use electric lawnmowers and horticultural equipment

Use electric vehicles to get around the site

Gas emissions are down to 2,310 tonnes in 2021 (from 2,814 in 2018)

Fuel emissions are at 166 tonnes, down 13% from 2018




Wimbledon Waste
No day-to-day waste goes to landfill

Food waste is converted to high-quality fertiliser for agriculture and horticulture






3) Wireless Festival


If you're more into hip-hop and urban music, Wireless Festival is the one for you. The event is now spread across three locations — Crystal Palace on 1st – 3rd July, and Finsbury Park and the National Exhibition Centre in Birmingham on 8th – 10th July — giving you more opportunities to see some of the most prominent performers in the music industry, including Nicki Minaj, A$AP Rocky and Cardi B.



Across all dates and locations, the organisers have shown a commitment to sustainable event practices and reducing waste, including pledging to use 100% renewable energy by 2030.




Wireless Festival Food and Drinks Packaging
Single-use plastic ban for traders
Deposits for reusable cups and bottles
Water refill points across the site




Wireless Festival Energy Usage
LED festoon and tower lights are used to reduce energy consumption

Battery storage solutions and solar hybrid generators are utilised

Use Hydrotreated Vegetable Oil (HVO) biodiesel, which emits 90% less carbon dioxide equivalent (CO2e) when compared to using regular red diesel




Wireless Festival Waste
No glitter is available at the festival to minimise microplastic waste




4) Reading & Leeds Festival


Reading & Leeds Festival is not renowned for eco-friendliness, with the media slating the festival for its innumerable discarded tents destined for landfills. In recent times, Reading & Leeds has turned over a new leaf with sustainable event practices, so that the grass is greener whether you're attending in the north or the south. But the festival still has far to go, coming last in our rankings of sustainable events.



On the plus side, it's one of the more eco-friendly festivals when it comes to travel. Festival-goers can easy access Reading and Leeds Festival by public transport, saving tonnes of Co2 that other festivals contribute from car emissions.




Reading & Leeds Festival Food and Drinks Packaging
Traders must adhere to the sustainability policy, which bans plastic packaging and allows compostable receptacles only




Reading & Leeds Festival Energy Usage
Reading

Biodiesel emissions: 1,225 kg Co2 (114% increase on 2018)

Diesel emissions: 301,792 kg Co2 (12% increase on 2018)

CO2 emissions: 389 tonnes



Leeds

Biodiesel emissions: 1,225 kg Co2 (114% increase on 2018)

Diesel emissions: 250,000 kg Co2

CO2 emissions: 324 tonnes




Reading & Leeds Festival Waste
Reading

0% landfill waste

489 energy tonnes are generated from waste

163 tonnes of waste is recycled



Leeds

0% landfill waste

343 tonnes of energy is generated from waste

303 tonnes of waste is recycled

8 tonnes of waste is composted




How to make your event sustainable: find eco-friendly packaging supplies


Eco-friendly packaging is an essential for organisers wondering how to make an event sustainable. Challenge Packaging offers a range of sustainable packaging options ideal for stock and goods in transit, including sturdy double-wall cardboard boxes and our new drinks packaging.



Browse the Challenge Packaging website and find eco-friendly packaging solutions for your sustainable event or business today.





Sources
http:/www.wimbledon.com/en_GB/atoz/sustainability.html
http:/www.readingfestival.com/wp-content/uploads/2022/01/Reading-Festival-Creative-Green-Report-2019.pdf
http://www.leedsfestival.com/wp-content/uploads/2022/01/Leeds-Festival-Creative-Green-Report-2019.pdf
http:/www.greenman.net/information/being-green/
http://finsburypark.wirelessfestival.co.uk/info-category/staying-green/
http://www.glastonburyfestivals.co.uk/information/green-glastonbury/our-green-policies/
http://www.glastonburyfestivals.co.uk/information/green-glastonbury/our-green-policies/energy-policy/
http://www.glastonburyfestivals.co.uk/information/green-glastonbury/our-green-policies/ecological-policy/
http://www.glastonburyfestivals.co.uk/information/green-glastonbury/our-green-policies/waste-policy/