Guide To Challenge Packaging's Digital Printing Service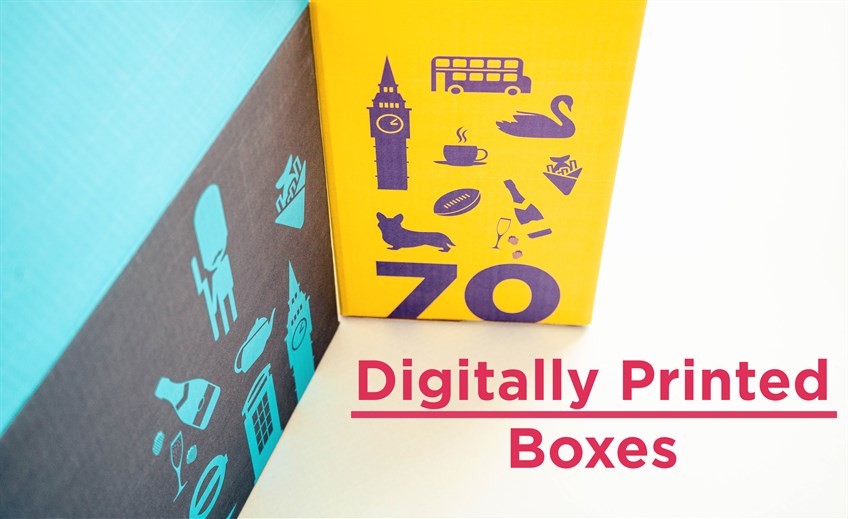 Published date: 28 April 2022
In the competitive world of ecommerce, standing out from the crowd is essential. Not just with your product and marketing but also with your packaging design.

Companies can make a lasting impression with sleek and fully-customised packaging that is both functional and eye-catching, providing an end-to-end customer experience.
If you're on this page, it's likely you're already considering the positive impact custom digital printing will have on your business. Or perhaps you've already introduced customised packaging to your brand, but it's not quite hitting the mark in terms of appearance, affordability or efficiency. We're here to help!
Our custom digital printing service makes ordering printed packaging easier than ever. Read our guide to Challenge Packaging's digital printing and learn how to print on boxes and get fully-customised packaging.
What is Challenge Packaging's custom digital printing service?

At Challenge Packaging, we're always looking for ways to innovate and bring accessible and affordable packaging solutions to our customers. That's why we've invested in digital printing equipment, providing our customers with professionally printed boxes easily ordered online. Our custom digital printing service is faster than any other option on the market, meaning you could have your order in just 2-3 days.

The best part? You can order any number of printed boxes with no set-up costs, making it the most cost-effective choice and giving you the flexibility of not needing to order in bulk.

And there's no compromise on quality. Boxes are printed in full colour, and the design is entirely customisable to your brand
Order custom printed cardboard boxes anywhere in the UK today

Now you know how to print on boxes for your business, browse Challenge Packaging's range of cardboard boxes for printing to get started and order your personalised printed boxes today.